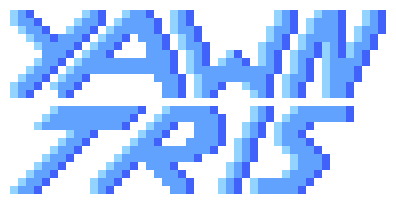 Yawntris
It's already so late, I should go to bed... But these falling-block games™ are terrifyingly addictive. Well... I guess I can handle playing one more game before going to bed... But my eyes feel like they're going to shut any moment now...

Wait, was that block already there?...

---
Controls:

Left, Right, Down - Move Falling Block
Up - Hard Drop (Block instantly goes down)
Z - Rotate Block counter-clockwise
X - Rotate Block clockwise
Enter - Start Game
---
Yawntris was done for the 2020 edition of #lowrezjam in a little under two weeks, under the theme It's Not Really There. It is a variant of the typical falling-block game in which every time you blink, an unexpected event occurs, making players change their course of action. Can you reach 100 points without letting your sleep get to you?

All assets are original except the ambiance track used, which is under Creative Commons from FreeSound.org.

We are part of our college game development group, Game Dev Técnico, which can be found here on Itch.io, and on Facebook and Twitter!



Comments
Log in with itch.io to leave a comment.
I enjoyed your take on Tetris. The glitches when you blinked provided a nice novel take on it.